Nintendo announced the release of Paper Mario: The Origami King for Nintendo Switch on July 17, 2020.
Here is an overview of the game, via Nintendo.com:
A new paper-crafted Mario adventure unfolds on Nintendo Switch!

The kingdom was ravaged by Origami! Join Mario and his new partner, Olivia, as they battle evil soldiers, rebuild their surroundings, and try to free Princess Peach's castle from the clutches of King Olly in the process. This humorous adventure, only on the Nintendo Switch system

Mario and Luigi receive an invitation from Princess Peach to attend an origami festival and they hurry to Toad Town, but something unusual has happened. After investigating the town, the duo find Princess Peach, who has been transformed into origami by King Olly, the ruler of the Origami Kingdom. With 5 giant streamer under his control, King Olly tied Princess Peach Castle and transported it to a remote mountain as part of his plan to re-establish the world.

On the journey to free Peach Castle, and rebuild the devastated landscape, Mario meets Olivia, Olly's sister, and the two men join forces to stop Olly's origami from attacking. Even Bowser fell victim to Olly's plot, when his minions turned into Folded Soldiers and betrayed their king Koopa, forcing him to ally with Mario and Olivia!

Fighting the Folded Soldiers in battles will require the player to have a strategy of queuing enemies to maximize damage! Out of battle, Mario can use the 1,000 Fold Arms skill to extend his arms at specific points to interact with the landscape to pull, peel, hit, and more! Join Mario, Olivia and their companions on a journey of laughter and emotions, suspense and lots of fun.
Screenshots game Paper Mario: The Origami King: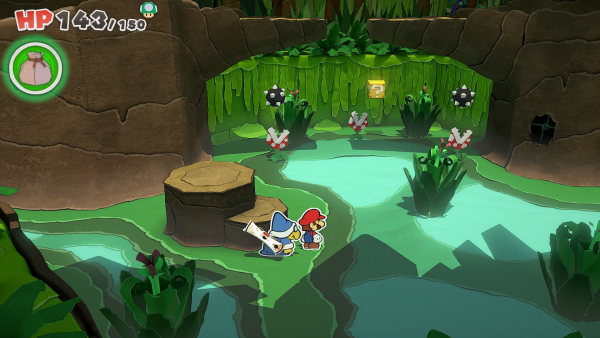 Trailer announce game: