PQube announced that it will release the international version of the Action RPG Maglam Lord game for Sony PlayStation 4 and Nintendo Switch on February 4, 2022.
Maglam Lord first launched PlayStation 4 and Switch on March 18, 2021 in Japan.
Here's an overview of the game, via PQube:
Introduce

Waking up in a new world, you discover that you are the last of your kind… an endangered Demon Lord, helpless and alone. Embark on a quest to restore your strength and regain your former glory.

Forging mythical blades and unbreakable bonds, Maglam Lord combines action RPG elements like real-time hack 'n slash combat with dating simulation and storytelling.

Offered to you by D3 Publisher, developer Felistella and writer Kei Miyakozuki of the famous Summon Night, as well as beautiful character designs and illustrations by the same person who designed "Okada Izo" in the game Fate/Grand Order!




Key Features

Transform Into a Powerful Blade – Engage in intuitive hack 'n' slash combat, battling monsters in real time for loot, materials, and precious items. In addition to the traditional HP and SP stats, fill the unique full DG Gauge to transform into a more powerful form.


Forge Mythic Weapons – Craft and customize your weapons with tons of stats, visuals, sound effects, and even personality changes. With 4 types of customizations available — Attachment, Decal, Color and Total Change — discover a wide range of powerful, beautiful, or even funny changes! Fight everything from a powerful and deadly blade to an ice cream cone or even a giant fish!

Find A Soulmate To Save Your Species! – Unlock the Dating Dojo to track your relationship with your team and the level of your relationship with potential partners. Increase your bond by fighting alongside party members, giving gifts, dialogue selection, and more. Get to the right level and you can go on a date with them — on a date, or as friends! Bowling Alley, Café, Casino and Bath House are just some of the places you take your future soul mate to win their hearts.




Highlights

Take on the role of a Demon Lord, as your body becomes a mythical weapon to restore your former power.

Genre-challenging gameplay with fast-paced and intuitive hack 'n' slash real-time combat.

Craft and customize weapons, forge unique blades with lots of special effects and decorations.

Find your true soulmate as you fight alongside your allies and build relationships with the sim elements.

Choose a male or female protagonist, each with unique art and voice acting.

More than 20 downloadable content packs.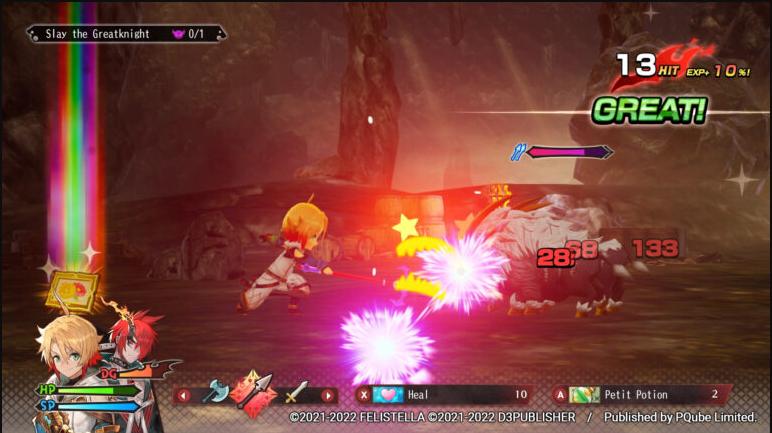 Trailer introduce Maglam Lord: