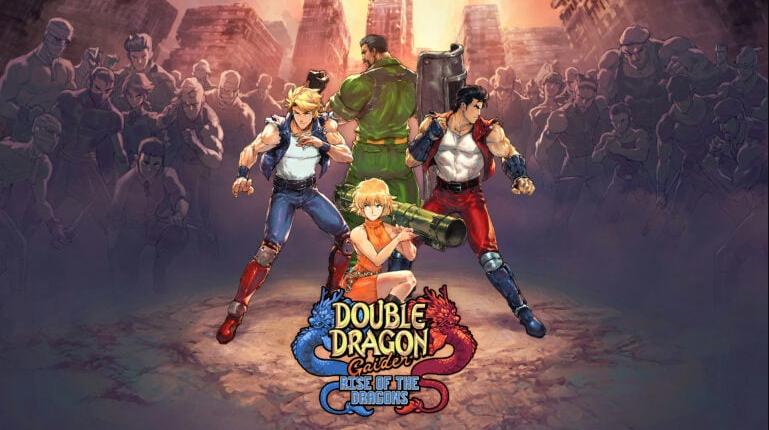 Publisher Modus Games and developer Secret Base have announced Double Dragon Gaiden: Rise of the Dragons for Sony PlayStation 5, Xbox Series, Sony PlayStation 4, Xbox One, Nintendo Switch and PC (Steam). The game will be released in the summer of 2023.
Double Dragon Gaiden: Rise of the Dragons is the first new game in the Double Dragon series, starting in 1987, since Double Dragon IV released in 2017, developed by Arc System Works. For this new game, Arc System Works licensed the intellectual property to Modus Games.
Here's an overview of the game, via Modus Games:
Double Dragon Gaiden: Rise of the Dragons is a co-op fighting duos beatdown game that is combined with roguelite elements to deliver Double Dragon-style brawls.


New York City in 199X: the city ravaged by nuclear war. Citizens struggle to survive as riots, crime and chaos fill the streets. Criminal gangs terrorize what's left as they vie for dominance. Not wanting to endure these conditions anymore, young Billy and Jimmy Lee took it upon themselves to take back their city.

Double Dragon Gaiden: Rise of the Dragons offers players seamless, incredible tagging and a multitude of strategies to wreak havoc on combos, defenses, and attacks across 13 playable characters.

The Billy and Jimmy Lee series icons star Marian, returning as a finished gun-wielding ranged fighter, and newcomer Uncle Matin, a riot shield-wielding powerhouse. motion. Tag in and out like the classic Lee duo or switch it up with different characters. With 2-player cooperative gameplay, the action quadruples as you and a friend clean up dingy streets.

Endless playability is made possible with the game's dynamic mission selector—the order in which you choose your missions affects mission duration, enemy count, and overall difficulty. Players choose between missions located in city areas, pursuing the leader of 4 dangerous gangs through unique stages filled with melee weapons, dangerously devoted members and multi-layered environments. Perfect form for all-out battles.

Money is earned using special KOs on opponents, while health boosts are earned by performing Crowd Control moves, which are special KOs that take down multiple enemies at once. Spend cash at the end of each level to unlock powerful upgrades for your chosen characters or choose to save your cash. Experiment with different duos, pursue alternative builds for your warriors through upgrades and change the order in which they challenge the city's evil gang leaders.

If a session ends in failure, the player can convert any remaining cash into usable tokens to permanently unlock additional characters and bonuses between sessions, making everyone Every battle has a purpose. But buying a Continue with that token to instead expand a promising round of gang action is well worth considering…

Double Dragon Gaiden: Rise of the Dragons recalls the classic aesthetic of the series with refreshed pixel-art visuals, an updated yet realistic sporty look for both heroes and villains. returns and the vibrant soundtrack gets players ready for the next battle. With unlockable rewards, adjustable difficulty levels, permadeath options, and infinite mode, Double Dragon Gaiden: Rise of the Dragons is a powerful revival of the series' signature action. Online cooperative play is planned as an update after launch later this year.
Trailer annouce Double Dragon Gaiden: Rise of the Dragons: